The second interview in the Art of the State Artist Interview series is with jeweler Valerie Perez-Prosick. The cuff that she has in the exhibition (you knew she had me at cuff, right?) is one that I was lucky enough to touch in person when she came into the PA Guild of Craftsmen with it once. As you may have deduced, she is also a Guild member. I love the chunky yet elegant designs her work has. Aside from seeing her work at the Art of the State Exhibition which runs through September 14th at the State Museum in Harrisburg, PA, you can find Valerie's work online at the Cavana Designs Etsy shop.
1. How did you get started in your craft? (using your media)
I got started in working with metals in high school. My high school had a large art department, and I was determined to take as many classes as possible! So I took a course in jewellery making, and I have been in love ever since.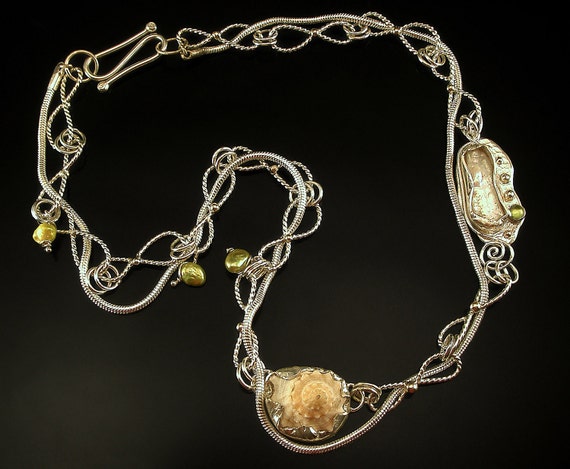 2. What has been inspiring/influencing your work lately?
My influences have ranged from silversmith Georg Jensen, Painter Gustav Klimt, old Mexican & Navajo designs, to the natural world.
3. Who are your favorite artists in your field?
My favorite artists are Jim Dahling, and Dmitry Pavlov. I went to school with Jim- I was an undergrad, while he was a grad student – a great artist & a heck of a nice guy! Dmitry's work is so exquisite…..wow!
4. What is your favorite customer quote or story?
I don't know that I have a favorite customer quote,but I know that some customers enjoy the story behind the name of my business "Cavana Design". (Cavana was the name of my Father's restaurant- named after his 3 daughters: CAroline, VAlerie, & NAtalie)
5. What is your favorite piece of art or fine craft that you own?
My favorite pieces are: My wedding band, which is a Dmitry Pavlov ring, and(if I may call this art) a gold watch my Grandfather brought over from Germany for my Grandmother, in the 1920's. Opening the back & seeing the workmanship is a thrill!